Delivery Information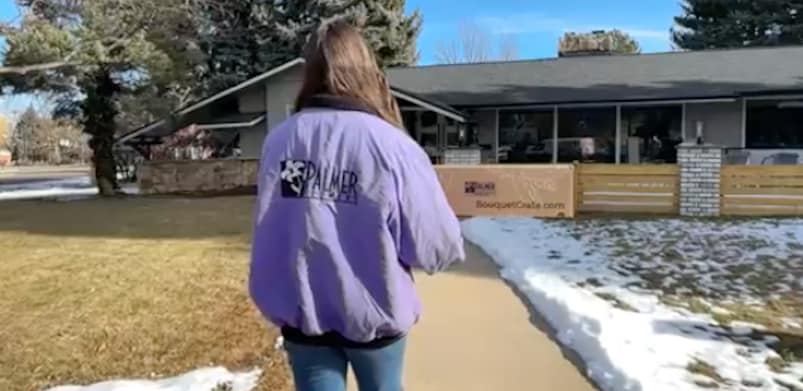 Same-Day Flower Delivery Service in Loveland!
YES, WE DELIVER 7 DAYS A WEEK.
Palmer Flowers Loveland proudly offers floral delivery services Monday through Sunday. We deliver to the following areas surrounding Loveland and throughout Northern Colorado: Loveland, Fort Collins Horsetooth Reservoir, Laporte, Timnath, Wellington, Berthoud, Johnstown, Milliken, Greeley and Windsor. Our delivery zip codes include: 80521, 80523, 80524, 80525, 80526, 80528, 80535, 80537, 80538, 80547, 80549, 80550, 80513, 80534, 80543, 80631, 80632, 80633, 80634, 80638, 80639, 80504.
A local flower delivery fee of $14.95 will be added to each order in Loveland and Fort Collins. For flower deliveries outside our Loveland and Fort Collins area, this fee will vary.
Local orders must be received before 2:00 PM, in the Mountain Standard time zone to ensure that we can effectively make the same-day delivery. Orders received after that time will be delivered the following day. Same-day delivery cut-off can happen before 2:00 PM in situations of high-volume. If this happens, you will be notified when you place your order.
If the recipient of your gift is not available when we attempt delivery, we will immediately attempt to call them. Only with permission, and an obvious secure location, will we leave the floral delivery at the recipient's door. If none of these options are available, we will leave notification on the front door and return the flower delivery to our flower shop.
Palmer Flowers Loveland will do everything we can to deliver your flowers directly to the intended recipient. In some cases, such as secure offices, dormitories, or hospitals, we are not allowed to reach the recipient. Our delivery driver will leave your floral gift with the appropriate staff and contact the recipient to let them know they have received a delivery.
Palmer Flowers is a local flower shop located in Loveland, Co. Our local flower deliveries are hand designed by our floral designers and delivered by our flower delivery drivers or a local courier service. Shop at a local florist to get the best service and quality!
Palmer Flowers Loveland Is Your Choice For Loveland Flower Delivery Service!